Robert B. Dilts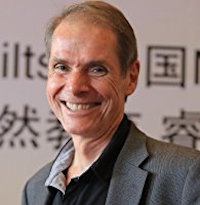 Robert B. Dilts, founder of Dilts Strategy Group has had a global reputation as a leading coach, behavioral skills trainer and business consultant since the late 1970s. Robert has been a developer, author, trainer and consultant in the field of Neuro-Linguistic Programming (NLP) - a model of human behavior, learning and communication - since its creation in 1975 by John Grinder and Richard Bandler. and has provided coaching, consulting and training throughout the world to a wide variety of individuals and organizations. In May, 2018, Robert was honored with the Lifetime Contribution Award by the Association for Neuro- Linguistic Programming (ANLP).
Robert is a co-developer (with his brother John Dilts) of the Success Factor Modeling™ process, a method to identify and transfer the critical success factors necessary to promote effective entrepreneurial activities within both new and traditional companies, by analyzing crucial patterns of business practices and behavioral skills used by successful individuals, teams and companies. They founded Dilts Strategy Group in order to apply the Success Factor Modeling™ process to support companies' growth and development on many levels. DSG's services include: modeling, training, consulting, coaching and hosting seminars in the application of the Success Factor Modeling™ process to groups and organizations throughout the world. Robert has authored numerous books and articles about Success Factor Modeling™, including Next Generation Entrepreneurship: Success Factor Modeling Volume I, Generative Collaboration: Success Factor Modeling Volume II and Conscious Leadership and Resilience: Success Factor Modeling Volume III.
His book Visionary Leadership Skills draws from Robert's extensive study of historical and corporate leaders to present the tools and skills necessary for "creating a world to which people want to belong." Robert's book Alpha Leadership: Tools for Business Leaders Who Want More From Life (with Ann Deering and Julian Russell) describes a new model of leadership that captures and shares the latest practices of effective leadership, offering approaches to reduce stress and to promote satisfaction. From Coach to Awakener provides a road map and set of toolboxes for coaches to help clients reach goals on a number of different levels of learning and change. Robert's book The Hero's Journey: A Voyage of Self Discovery (co-authored with Stephen Gilligan) demonstrates how to embark on a path of learning and transformation that will reconnect you with your deepest calling, transform limiting beliefs and habits and improve self-image.