Success Factor Modeling™
By Robert Dilts
Success Factor Modeling™ (SFM) is a methodology developed by Robert and John Dilts in order to identify, understand and apply the critical success factors that drive and support successful people and organizations. Success Factor Modeling™ is founded upon a set of principles and distinctions which are uniquely suited to analyze and identify crucial patterns of business practices and behavioral skills used by successful individuals, teams and companies. The SFM™ process is used to identify key characteristics and capabilities shared by successful entrepreneurs, teams and business leaders and then to define specific models, tools and skills that can be used by others to greatly increase their chances of producing impact and achieving success.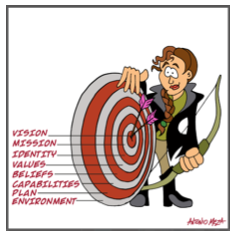 By examining successful businesses, projects and ventures and observing the behavior of high performing individuals and teams, SFM™ helps people and organizations to distinguish the factors that have created a particular pattern of success and to identify the trends necessary to extend that legacy into the future. These factors can then be "baked into" people's daily activities by providing the appropriate strategies, tools and support.
One of the strengths of the SFM™ process is its integration of effective business practices with key behavioral skills. Modeling behavioral skills involves observing and mapping the crucial personal and interpersonal processes that produce a successful or remarkable performance of some type. The goal of the behavior modeling process is to identify the essential elements of thought and action required by an individual or group to produce the desired response or outcome - i.e., discovering what is the difference that makes a difference. It is the process of taking a complex performance or interaction and breaking it into small enough chunks so that it can be recapitulated in some way. The purpose of behavior modeling is to create a pragmatic map or model of that behavior which can be used to reproduce or simulate some aspect of that performance by anyone who is motivated to do so.
Success Factor Modeling can be likened to identifying the particular key needed to unlock the door to success for various life situations. Life circumstances present us with doorways leading to different areas of success. The locks on these doorways are the critical issues and contextual constraints we must address in order to reach our goal in those particular circumstances. The key to a particular lock is the appropriate combination of behaviors and the corresponding mindset required to address effectively the issues and constraints presented by a certain context.
A key that successfully unlocks one door will not necessarily unlock another one, even if it worked perfectly for the previous door. Thus, in order to address changing contexts, an effective model would provide not only a description of the key, but also include a description of the lock which that key fits.
An effective model provides a description of the lock (strategic challenges
and objectives) and the key which opens it (skills and actions).
Thus, the objective of the Success Factor Modeling™ process is to make an instrumental map - one supported by a variety of exercises, formats and tools that allows people to apply the factors that have been modeled in order to reach key outcomes within their chosen context. To accomplish this, SFM applies the following basic template: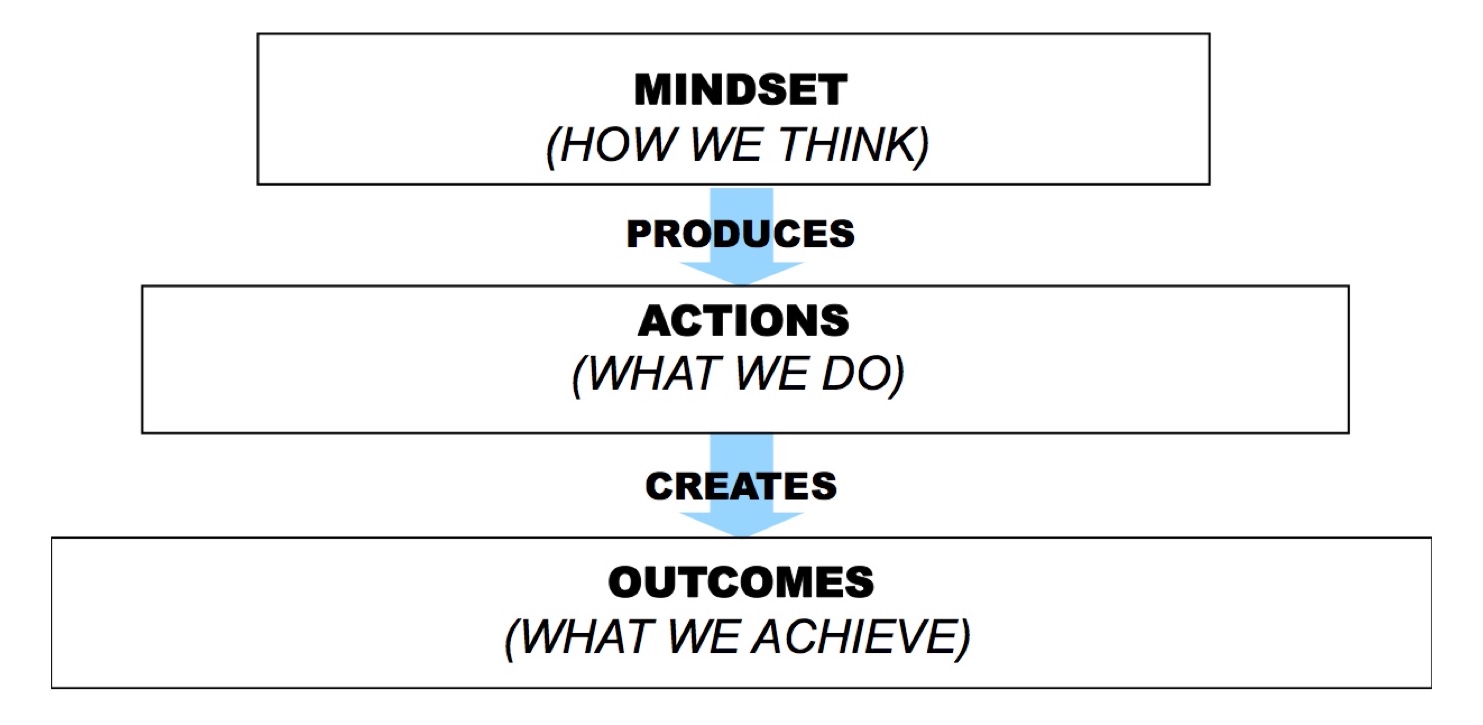 The Basic Success Factor Modeling Template
Our mindset - which is made up of our inner state, attitude and thinking processes - produces outer behavioral actions. It is our mindset that determines what we do and the type of actions we take in a particular situation. These actions, in turn, create outcomes in the external world around us. Achieving desired outcomes in our environment thus requires the proper mindset in order to produce the necessary and appropriate actions.
Desired outcomes, then, are the locks an individual is seeking to successfully open. The individual's mindset and actions form the key which will open a particular lock. The goal of Success Factor Modeling is to find the proper keys which open the locks necessary to reach our desired outcomes.
What is Success?
The notions of "becoming a success" or "being a success" imply goals at an identity level. What makes individuals, teams and organizations perceive themselves as successful or consider themselves "a success?" Clearly, money and possessions are not necessarily the main measure of inner success. In fact, successful people often see money as merely a means to an end rather than the end itself.
According to Success Factor Modeling™, at the level of self and identity, you are successful in any area of your life in which you have the inner experience of feeling both grateful and generous. Successful people are grateful for what they have and, at the same time, are able to generously share with others. Bill Gates and Warren Buffett's Giving Pledge initiative is great example of this principle.
Thus, gratitude is important because, even if you have enough to give away, if you don't feel grateful for what you have, you most likely do not perceive it as valuable. Or, to put it another way, if you do not value what you have, you won't feel grateful to have it and thus not feel successful.
Generosity is important because, if you feel grateful to have something, but believe you must hold onto every speck of it, then you will constantly worry about needing to have more of it, similar to an addiction. You will not feel that you have "enough." Successful people have enough of what they need and feel that they can give something back.
A core premise of Success Factor Modeling™ is that in order to grow our professional career or venture, we must also grow and evolve personally. In order to contribute more, we have to grow more. In order to take our professions, our ventures or our lives to the next level, we have to significantly shift our mindset. That mindset that brought us where we are today will not take us to the next stage.
Key Levels of Success Factors
When seeking to identify the characteristics of the mindsets and actions that form the "keys" associated with successful performance, the Success Factor Modeling process takes into account a number of different levels of factors:
• Environmental factors, which determine the external opportunities or constraints which individuals and organizations must recognize and to which they must react. They involve considering where and when success occurs.
• Behavioral factors relating to the specific action steps taken in order to reach success. They involve what, specifically, must be done or accomplished in order to succeed.
• Capabilities which make up to the mental maps, plans or strategies that lead to success. They direct how actions are selected and monitored.
• Beliefs and Values which provide the reinforcement that supports or inhibits particular capabilities and actions. They relate to why a particular path is taken and the deeper motivations which drive people to act or persevere.
• Identity factors relating to people's sense of their role and unique distinguishing characteristics. These factors are a function of who a person or group perceives themselves to be.
• Vision and Purpose which relate to people's view of the larger system of which they are a part. These factors involve for whom or for what a particular action step or path has been taken.
The identity of an individual, team or organization can be viewed as being composed of two complementary aspects: the ego and the soul. The ego is oriented toward survival, recognition and ambition (the part of our superposition that becomes observed). The soul is oriented toward purpose, being and contribution. Charisma, passion and presence emerge naturally when these two forces are aligned. The complementary dimensions of ego and soul tend to bring out a different emphasis for each level of success factors. The ego side accentuates ambition, role, the importance of permission, strategy and appropriate reactions to constraints and potential dangers in the environment. The soul side puts priority on vision, mission, inner motivation and activating the energy and emotional intelligence needed to proactively take advantage of environmental opportunities.
The ego of a company is made up of the owners and shareholders, whose concern is with the survival, financial profitability (the "bottom line") and return on investment. This is reflected by the ambition of the organization and its members in terms of status and level of performance.
The soul of an organization is the value it provides for customers and the larger social and physical environment. This is created by the vision of the organization and the unique contribution and mission of the organization and its members with respect to the larger systems which it serves.
Team members and employees clearly operate in the middle of these two dimensions and need to find the proper balance between the two in order to effectively do their jobs and serve their purpose.
When an organization leans more to the "ego" side, emphasis is more on management and bureaucracy. Environmental constraints and dangers take priority and the company starts to focus on reacting properly, analyzing situations correctly and following the proper plans and strategies. Permission is required before any action can be taken and team members must stick to their proscribed roles.
When an organization is more "soul" leaning, emphasis goes more toward leadership and entrepreneurial activities. The environmental focus is more opportunities and proactive risk-taking is encouraged. Energy and emotional intelligence are as much a part of guiding decision-making process as strategy. Values related to a customer-focused vision and mission determine the priorities, which provide the inspiration and motivation for action.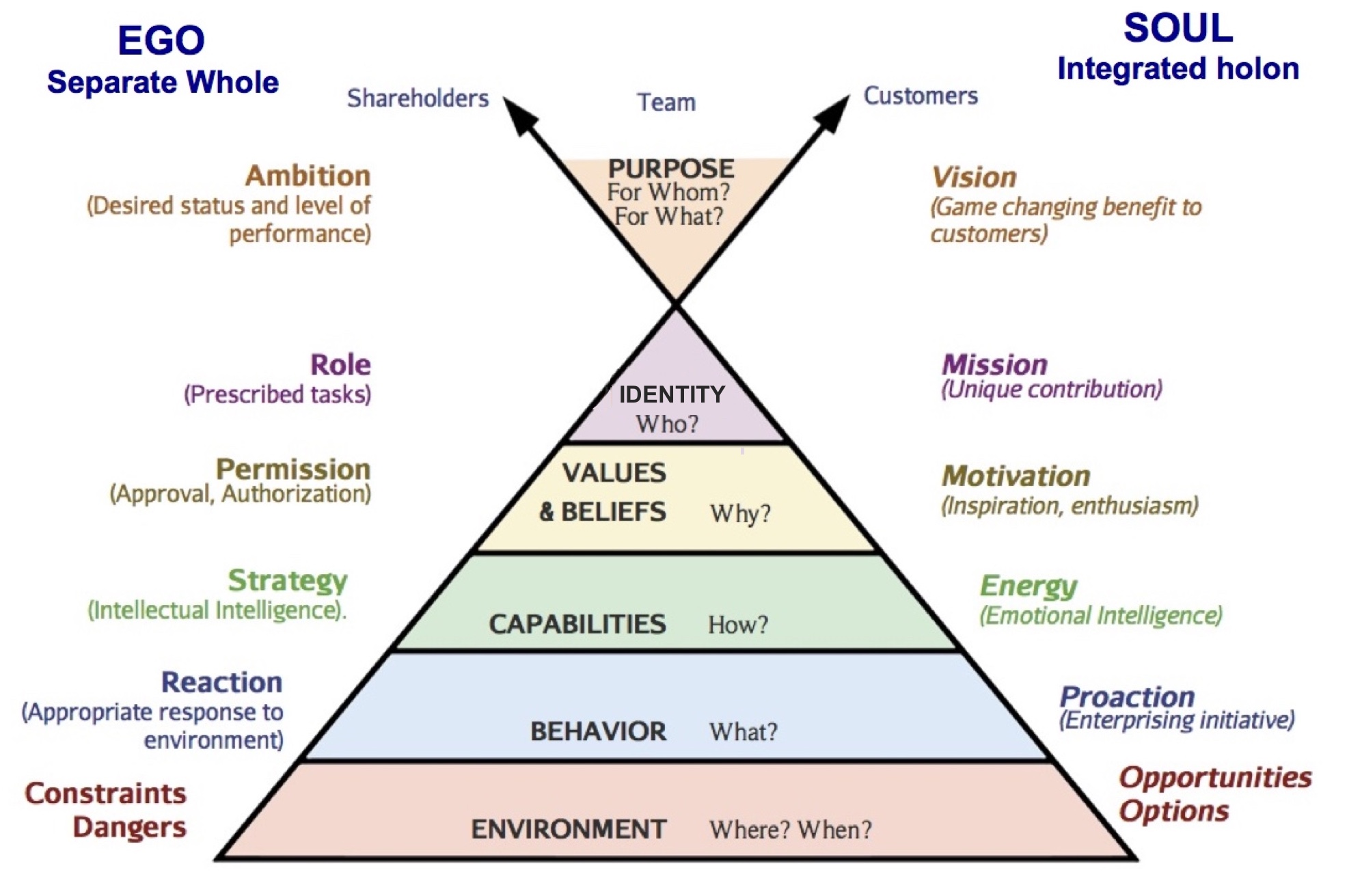 Levels of Success Factors
Research with Success Factor Modeling indicates that the highest levels of performance of an individual, team or organization occur when the levels of success factors related to both ego and soul are balanced, aligned and integrated. In both individuals and organizations it is important to keep a balance between the two. The bigger your vision, the more ambition you need in order to reach it. Similarly, the bigger your ambition, the more important it is for your vision to expand. Ego without soul creates "blind ambition." Soul without ego can lead to impotence and "burnout."
When people in teams and organizations are able to achieve this balance, they demonstrate the characteristic of collective intelligence. This relates to the ability of people in a team, group or organization to think and act in an aligned and coordinated fashion. Collective intelligence transforms separate individuals into a cohesive group and creates a team in which the whole is truly greater than the sum of its parts; i.e., where 1 + 1 = 3 or more.
One of the fruits of collective intelligence is what is known as generative collaboration. Generative collaboration involves people working together to create or generate something new, surprising and beyond the capacities of any of the group members individually. Through generative collaboration, individuals are able to utilize their abilities to the fullest and discover and apply resources that they did not yet realize that they had. They draw new ideas and resources out of each other. Thus, the performance or output of the group as a whole is much greater than it would be if the individuals were working by themselves.
Read the Books:
The core SMF principles and models are detailed in the three-volume series by Robert Dilts: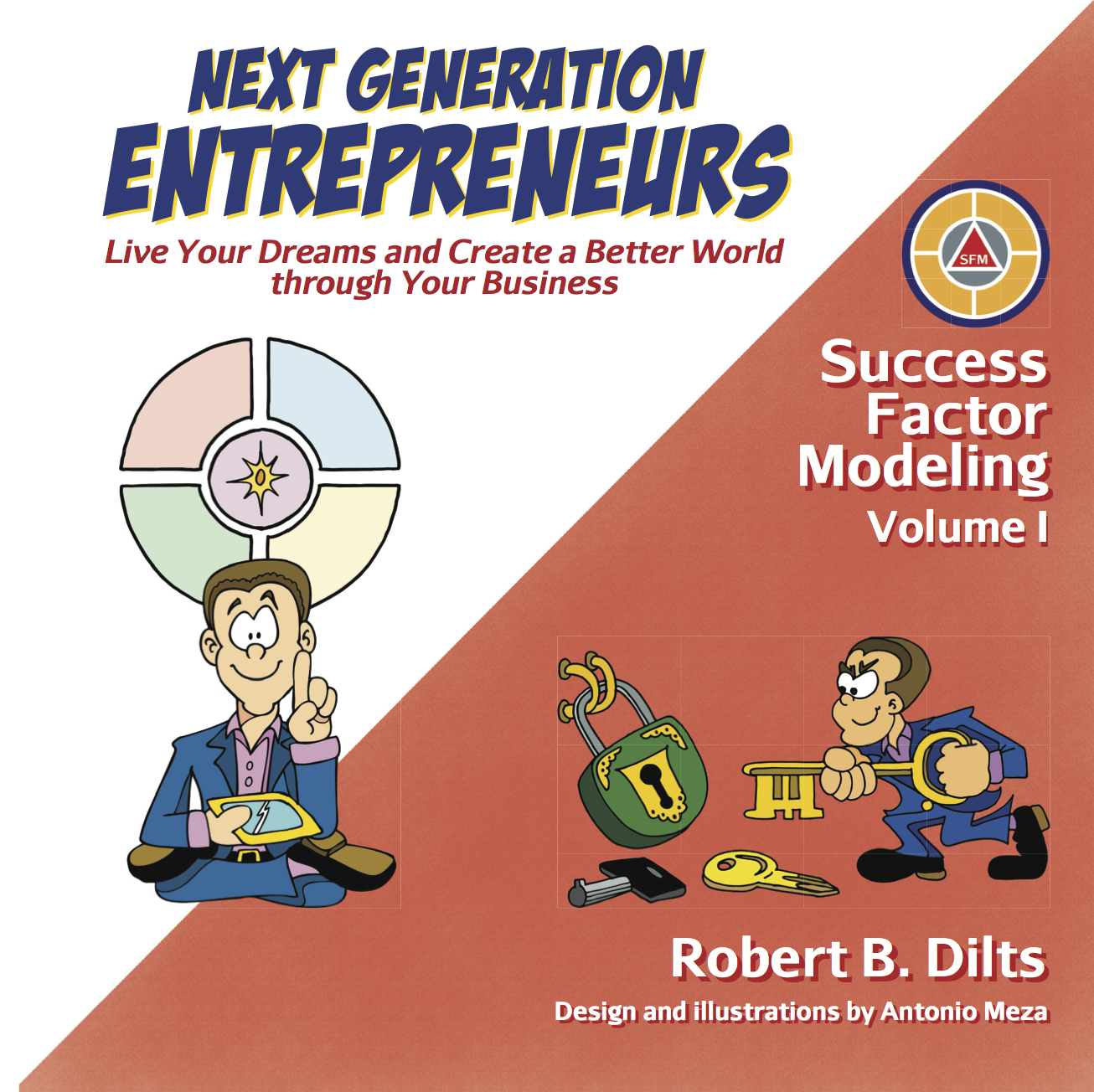 Next Generation Entrepreneurship:
Success Factor Modeling Volume I


Live Your Dreams and Create a Better World through Your Business! This book is for people who are willing to make a conscious decision to become more passionate, purposeful and creative, and to learn to become a "Next Generation Entrepreneur."




Order a Copy Here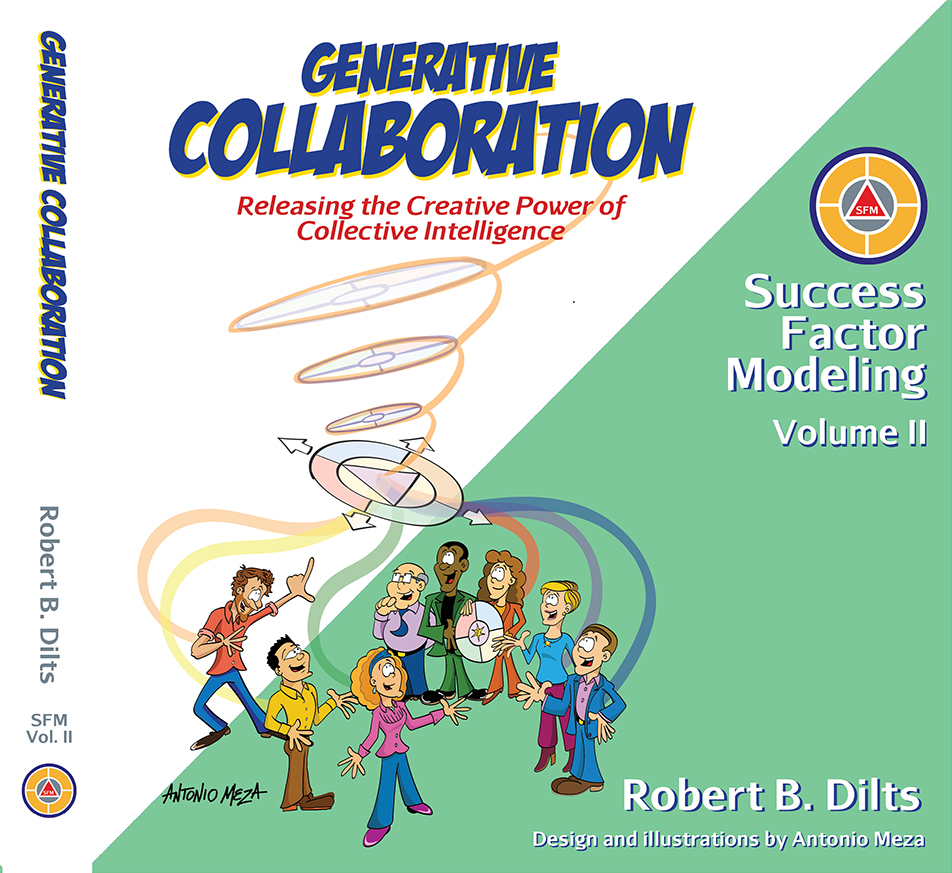 Generative Collaboration:
Success Factor Modeling Volume II
Generative Collaboration involves people working together to create or generate something new, surprising and beyond the capacities of any of the group members individually. Through Generative Collaboration, individuals are able to utilize their abilities to the fullest and discover and apply resources that they did not yet realize that they had. Thus, the performance or output of the group as a whole is much greater than it would be if the individuals were working by themselves.

Order a Copy Here





Conscious Leadership and Resilience:
Success Factor Modeling Volume III

Conscious Leadership and Resilience presents models, tools, exercises, illustrations and case examples - of successful leaders, entrepreneurs, teams and organizations - that will help you understand how to orchestrate innovation and strengthen your fitness for the future.

Order a Copy Here